An Officer And A Gentleman
Broadway In The Basin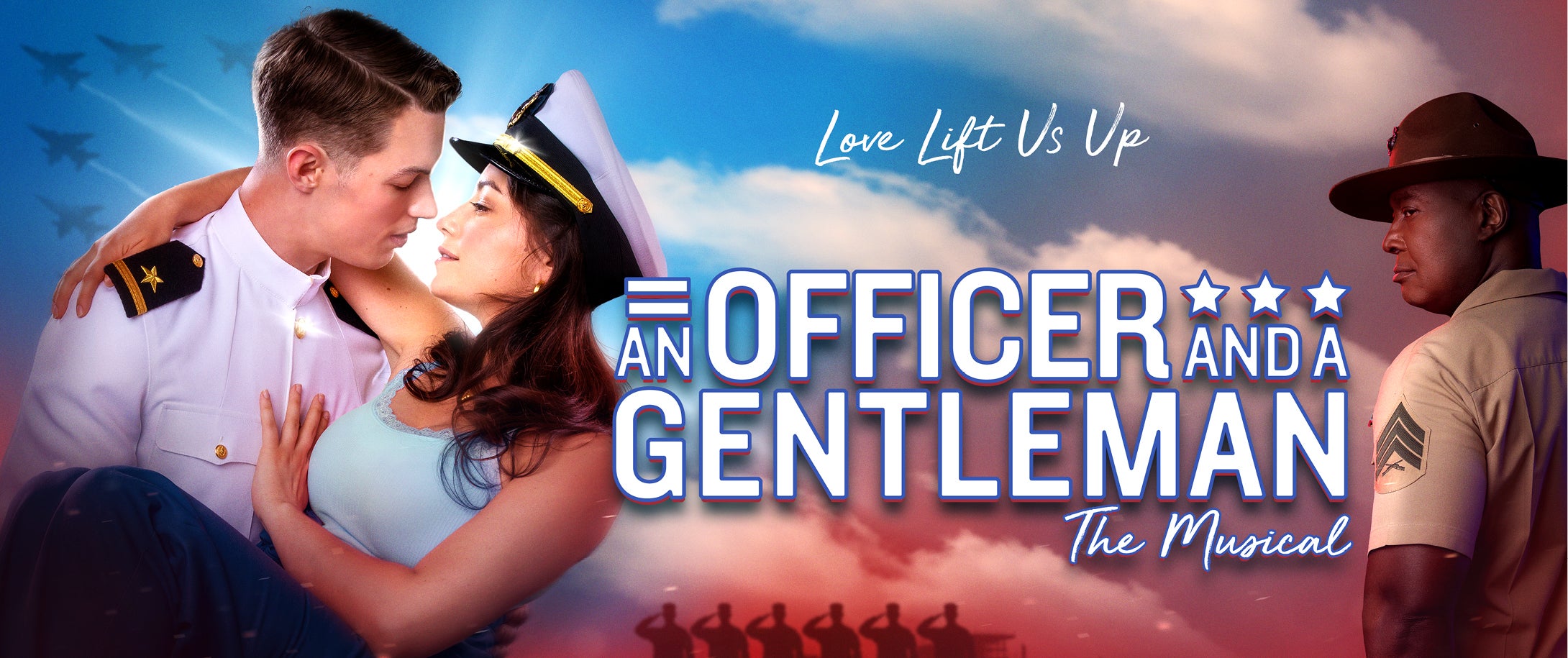 An Officer And A Gentleman
Broadway In The Basin
Nov

28

, 2021

/ Sunday

2:00 PM

On Sale Soon
Based on the Oscar-winning film, AN OFFICER AND A GENTLEMAN is a timeless love story that celebrates triumph over adversity. The new musical features an iconic score including the Grammy and Oscar-winning #1 hit "Up Where We Belong" (Joe Cocker/Jennifer Warnes), and your favorite 80's hits including: "Higher Love" (Steve Winwood), "Owner of a Lonely Heart" (Yes), "Love is a Battlefield" and "Invincible" (Pat Benatar), "Lost In Your Eyes" (Debbie Gibson), "Right Here Waiting" (Richard Marx), "Venus" (Bananarama), "I Can't Hold Back" (Survivor), "Never Surrender" (Corey Hart), "Do The Walls Come Down" (Carly Simon), "Fly By Night" (Rush), "Hold On to Your Dream (Rick Springfield), "Overkill" (Men at Work), "Renegade" (Styx), and more!
Zack Mayo has the raw talent and strength for the US Navy's Officer Training School; but his arrogance is out of step. Graduating from the elite program will secure Zack's career and future, but can he endure the relentless commands of Drill Sergeant Foley? On his journey of self-discovery, Zack finds comfort in the arms of a strong-willed local factory worker. When tragedy befalls a fellow candidate, Zack learns the importance of friendship and honor, finds the courage to be his best self and wins the heart of the woman he loves.
Additional Ticket Information

STUDENT - $24.00
Student Discount with Adult purchase or Valid College ID
Discount only valid for Gallery Seating

GROUP (10+) - 10% OFF RESERVED PRICE
Once you cart all seats, select Group (10+) from the drop down for each seat

Ticketing & Subscription On Sale Information

Wagner Noël Performing Arts Center and Nederlander National Markets are excited to bring you the 2021-22 Broadway In The Basin Season featuring An Officer and A Gentleman, STOMP, Beautiful: The Carole King Musical, and The Simon and Garfunkel Story.

Subscribers enjoy exclusive benefits including a guarantee of the same great seats to each season show, and the option to renew those seats from year to year. In addition, subscribers receive additional special ticket offers and the chance to purchase tickets to added shows before the general public. Tickets are received via mail prior to the performance to avoid box office lines – and lost ticket insurance is included at no additional charge for subscribers.

Important Dates

The renewal period for current subscribers is now - September 24, 2021
New subscriber period September 13, 2021 - November 28, 2021
Tickets for individual performances will go on sale on October 1, 2021

2021 - 2022 Broadway In The Basin Season

STOMP – Monday, December 13, 2021, at 7:30 PM
BEAUTIFUL: THE CAROLE KING MUSICAL – Monday, February 7, 2022, at 7:30 PM
THE SIMON & GARFUNKEL STORY – Friday, March 4, 2022, at 7:30 PM

In addition to the titles in the 2021-22 series, the rescheduled performance of RAIN: A Tribute to The Beatles from the 2019-2020 season will play Sunday, April 24, 2022, at 7:30 PM and the rescheduled performance of Waitress from the 2019-2020 season will play on Thursday, May 26, 2022, at 7:30 PM. Tickets for the original performance will be honored for this performance. Single tickets for both shows are on sale now.

COVID-19 Policies & Procedures

To prevent the spread of COVID-19, Wagner Noël Performing Arts Center will have the following policies in place until further notice. Please read thoroughly.

This is a full capacity event
In accordance with the recommendation by the CDC the face mask policy for patrons of all ages is optional. Wagner Noël PAC highly encourages masks for those who are immune comprised. We ask that patrons be respectful of each other's choices.
Patrons who feel they may have been exposed to COVID-19 or another communicable disease should remain at home.
Many tours or events may choose for reasons of their own to continue to ask patrons to wear a face mask when in the facility. This information will be released at the time tickets go on sale so that patrons may make a choice about their attendance.
Touchless hand sanitizing stations will remain throughout the facility for the patron use.
Patrons are encouraged to social distance when possible.
Tickets can be purchased online at wagnernoel.com and can be downloaded and displayed on a mobile device to encourage a touchless entry process.
Only small handbags are allowed in the venue. Bags should be no larger than 8x10x6 inches in size. No backpacks or tote bags allowed. Diaper bags will be searched and tagged. A small clear bag is recommended. The intent is to limit the touchpoints for our employees performing the bag check process.
The Wagner Noël PAC continues to spray a disinfectant barrier every 30-90 days in addition to daily cleanings.

Wagner Noël staff will continue to wear a face mask for the protection of its patrons, tour guests, crew members, and artists.