Cinema Under the Stars - Rocky Horror Picture Show
Partial Proceeds Benefitting Hamhocks of Midland Community Theatre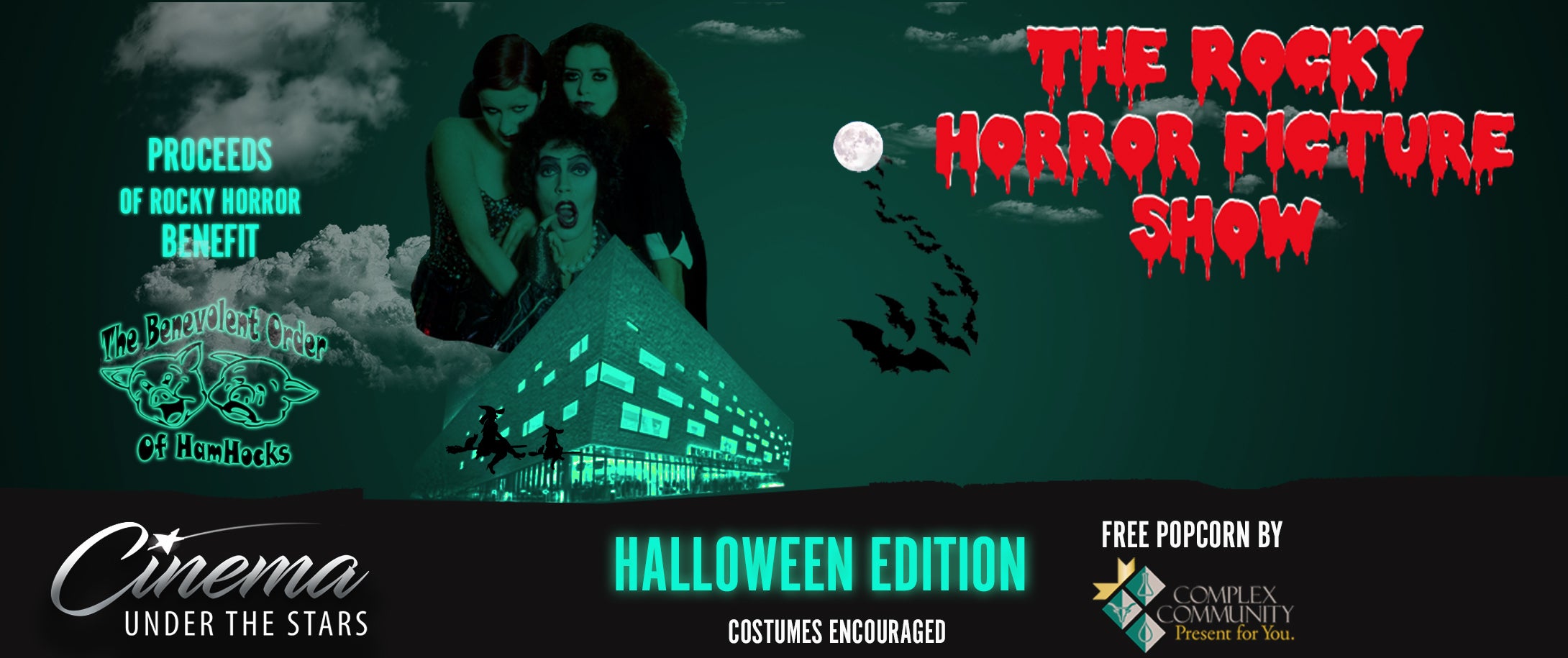 Cinema Under the Stars - Rocky Horror Picture Show
Partial Proceeds Benefitting Hamhocks of Midland Community Theatre
Join us for a double feature of Cinema Under the Stars Halloween Edition; starting with Hocus Pocus at 8 PM followed by Rocky Horror Picture Show at 11 PM. We are teaming up with Hamhocks of Midland Community Theatre to host their annual showing of Rocky Horror. Come early to purchase your prop bag from the Hamhocks for the interactive portions of Rocky Horror and to grab free popcorn from Complex Community Federal Credit Union!
7 PM - Doors Open
8 PM - Hocus Pocus Starts
10 PM - Doors Open for Rocky Horror Picture Show
11 PM - Rocky Horror Picture Show Starts
*Movie screenings will be inside Wagner Noël PAC. MCT will have prop bags for sell the night of the show, guests will not be allowed to bring in their own props for the interactive portion of Rocky Horror Picture Show.
Ticketing Information

Tickets for Cinema Under the Stars are $5 and each movie will be sold separately with assigned seating to allow for social distancing. You can purchase tickets for each movie screening and will have to choose your seats each time; meaning it will be first come first served, and having the same seats for each movie is not guaranteed.

Costume Guidelines

Costumes representing characters from Hocus Pocus and Rocky Horror Picture Show are welcome at this movie event. Additionally:

All patrons ages 10+ will be required to wear a face mask to enter the building. Face masks must remain on patron's faces at all times in the building; including in the lobby, at your seat (while the patron is not eating or drinking), and in the restrooms.

Costume Masks that cover your entire face are not permitted

Weapons (plastic/toy/real) will not be allowed into the building
Though we can appreciate a good Frank n Furter and Rocky Horror cosplay, it tends to be cold within Wagner Noël - shirts, pants, and shoes will be required to be worn at all times.
Clothing that reveals parts of a guest's body that may be offensive to other guests may be denied entry, without refund. All guests must wear shoes and at no time may a guest remove their shirt inside the arena.

COVID-19 Prevention and Procedures

As a precaution and to prevent the spread of COVID-19, Wagner Noël Performing Arts Center will have the following policies in place for the October 29, 2020, Cinema Under the Stars event:

Seating will be socially distant, meaning every other row will be filled by groups of 2 - 6 people spaced out on that row. Please contact the Box Office if you are in need of a group of tickets that appear unavailable.
All patrons ages 10+ will be required to wear a face mask to enter the building. Face masks must remain on patron's faces at all times in the building; including in the lobby, at your seat (while the patron is not eating or drinking), and in the restrooms.
A limited selection of food and beverages will be offered for this performance. Food and beverage are to be enjoyed at your seat (not in the lobby).
Our bag policy is limited to 8" x 10" x 6" in size. The intent of this is to limit the touchpoints of our employees while performing bag checks prior to patrons entering the building.
For a list of prohibited items and policies visit our A - Z Fan Guide
If you have a specific question, please email

[email protected]

.

*Please note these policies are specific for the October 29, 2020, Cinema Under the Stars event. Each show at Wagner Noël PAC will have its own set of policies as COVID-19 regulations and best practices evolve.

Hamhocks of MCT Prop Bags, RHPS Maks, & T-shirts

The Hamhocks of MCT will be in the Grand Lobby of Wagner Noël PAC selling as a fundraiser for MCT:

Rocky Horror Prop Bags $5
Rocky Horror Masks $5
T-Shirts $20

*Subject to change