Cuentos: Tales from the Latino World
Supported by Odessa Arts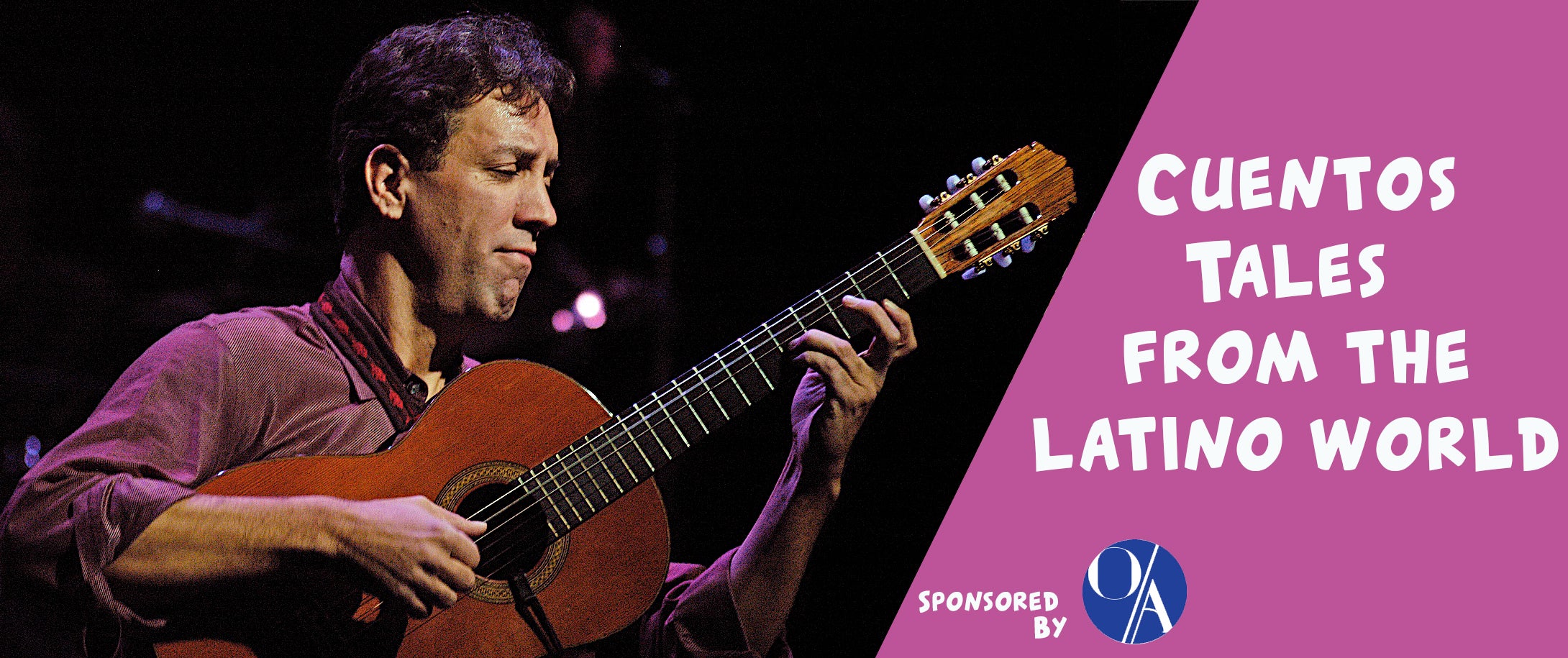 Cuentos: Tales from the Latino World
Supported by Odessa Arts
Cuentos paints a vivid picture of the people and rich cultures of the Spanish-speaking world with colorful tales from the Caribbean, South America, and the Bronx! From the silly antics of the Puerto Rican anti-hero "Juan Bobo" to the mysterious dealings and powers of the Orishas in a suite of Afro-Cuban stories, these tales are filled with memorable characters, fantastic plots and positive messages for children. Spanish language words are sprinkled throughout the stories and songs in such a way that young audiences can repeat and retain their sound and meaning. Solid entertainment and a great introduction to the marvelous world of Latino literature and culture.
This performance is geared for children in 2nd - 6th grade.
Related Links

COVID-19 Prevention Policies

As a precaution and to prevent the spread of COVID-19, Wagner Noël Performing Arts Center will have the following policies in place for the September 19, 2020, performance of Cuentos:

Capacity is limited to 192 people for this performance
The performance will be held in the main Wagner Noël theatre
Seating will be socially distant, meaning every other row will be filled by groups of 2 - 6 people spaced out on that row. There will not be anyone sat in front or behind you - only to the side of you at a social distance.
If you have a need for a specific number of seats that are no longer available or if you need to purchase more than 6 seats together, please contact the box office at 432.552.4437 for availability.
All patrons ages 10+ will be required to wear a face mask to enter the building. Face masks must remain on patron's faces at all times in the building; including in the lobby, at your seat (while the patron is not eating or drinking), and in the restrooms.
A limited selection of food and beverages will be offered for this performance. Food and beverage are to be enjoyed at your seat (not in the lobby).
Our bag policy is now limited to 8" x 10" x 6" in size (formerly 14" x 14" x 6"). The intent of this is to limit the touchpoints of our employees while performing bag checks prior to patrons entering the building.
All tickets for this event will be sold online through WagnerNoel.com or Etix.com. Guests are encouraged to download their tickets to their mobile devices prior to coming to the performance. Printed tickets will still be accepted.
For a list of prohibited items and policies visit our A - Z Fan Guide
We will be sharing in detail our cleaning procedures in the weeks leading up to the event.
If you have a specific question, please email

[email protected]

.

*Please note these policies are specific for this performance. Each show at Wagner Noël PAC will have its own set of policies as COVID-19 regulations and best practices evolve.