The Bachelor Live On Stage Official Tour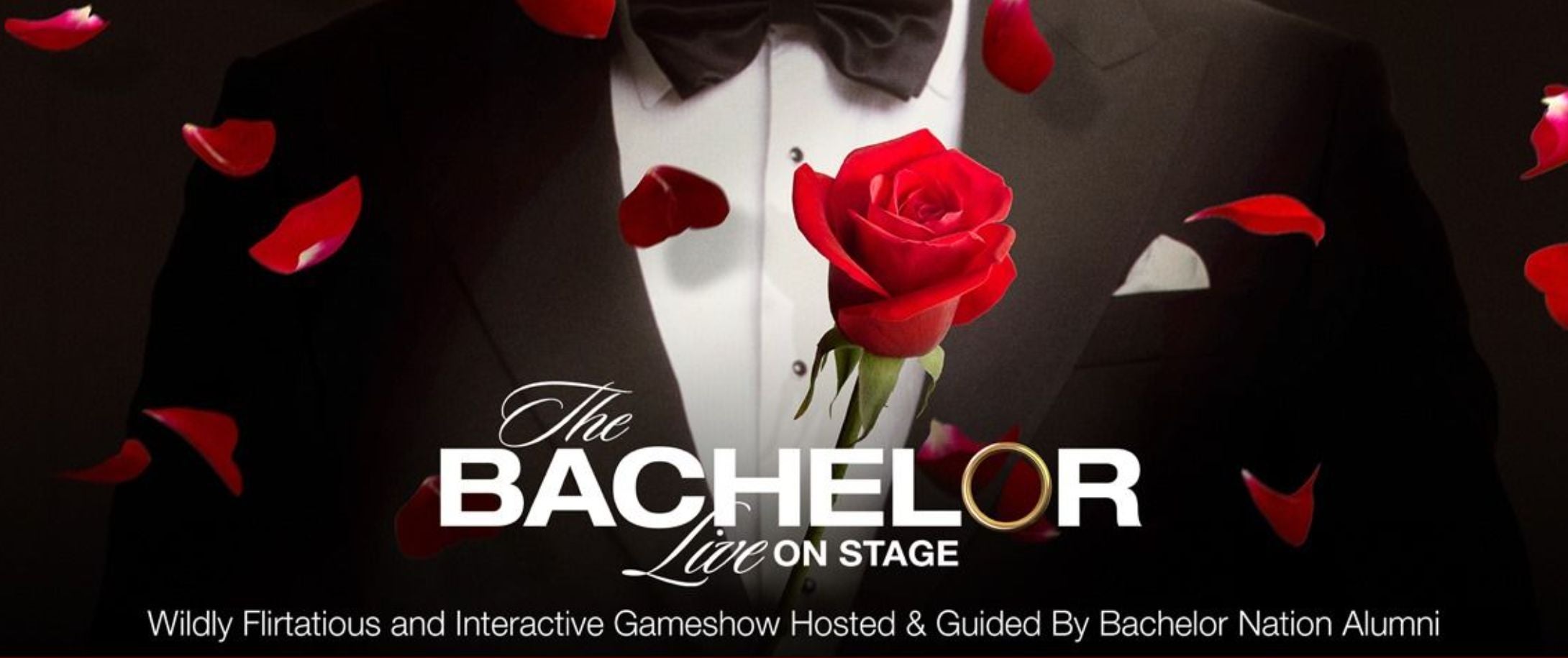 The Bachelor Live On Stage Official Tour
The Bachelor Live On Stage Official Tour is the ultimate Bachelor Nation fan party in the form of a wildly flirtatious and interactive gameshow – live on your hometown stage.
Featuring recent cast members and hosted by Bachelor Nation favorites, the audience and on-stage participants will leave the theater feeling like they just spent an evening at the mansion. A Bachelor from the alumni cast of recent seasons will guide a handful of ladies, hand-picked from the audience to personally experience all the fun, drama and what life at the mansion is really like. From glamorous limo entrances to outrageous group dates and all the memories that come along with it, come dressed to the nines and bring your watch party crew to cheer on those vying for the final rose of the evening.
The Bachelor Live On Stage Official Tour guarantees a wild night of fun, shocking surprises and a front row seat to the journey you've been watching on TV for years. There's only one question – are you here for the right reasons?
COVID-19 Policies & Procedures

To prevent the spread of COVID-19, Wagner Noël Performing Arts Center will have the following policies in place until further notice. Please read thoroughly.

This is a full capacity event
In accordance with the recommendation by the CDC the face mask policy for patrons of all ages is optional. Wagner Noël PAC highly encourages masks for those who are immune comprised. We ask that patrons be respectful of each other's choices.
Patrons who feel they may have been exposed to COVID-19 or another communicable disease should remain at home.
Touchless hand sanitizing stations will remain throughout the facility for patron use.
Patrons are encouraged to social distance when possible.
Tickets can be purchased online at wagnernoel.com and can be downloaded and displayed on a mobile device to encourage a touchless entry process.
Only small handbags are allowed in the venue. Bags should be no larger than 8x10x6 inches in size. No backpacks or tote bags allowed. Diaper bags will be searched and tagged. A small clear bag is recommended. The intent is to limit the touchpoints for our employees performing the bag check process.
The Wagner Noël PAC continues to spray a disinfectant barrier every 60-90 days in addition to daily cleanings.

Wagner Noël staff will continue to wear a face mask for the protection of its patrons, tour guests, crew members, and artists.

VIP MEET & GREET (Post Show) - $129.00

VIP MEET & GREET DETAILS:

The VIP Meet & Greet ticket includes a special lanyard you will pick up at your performance that grants you access to the VIP area with an opportunity to get a photo with the show host and alumni for the night. Includes a special VIP gift. Local COVID guidelines & mandates will be adhered to keep our cast and fans safe.