CANCELED The Monkees Farewell Tour with Michael Nesmith & Micky Dolenz
Outback Concerts Presents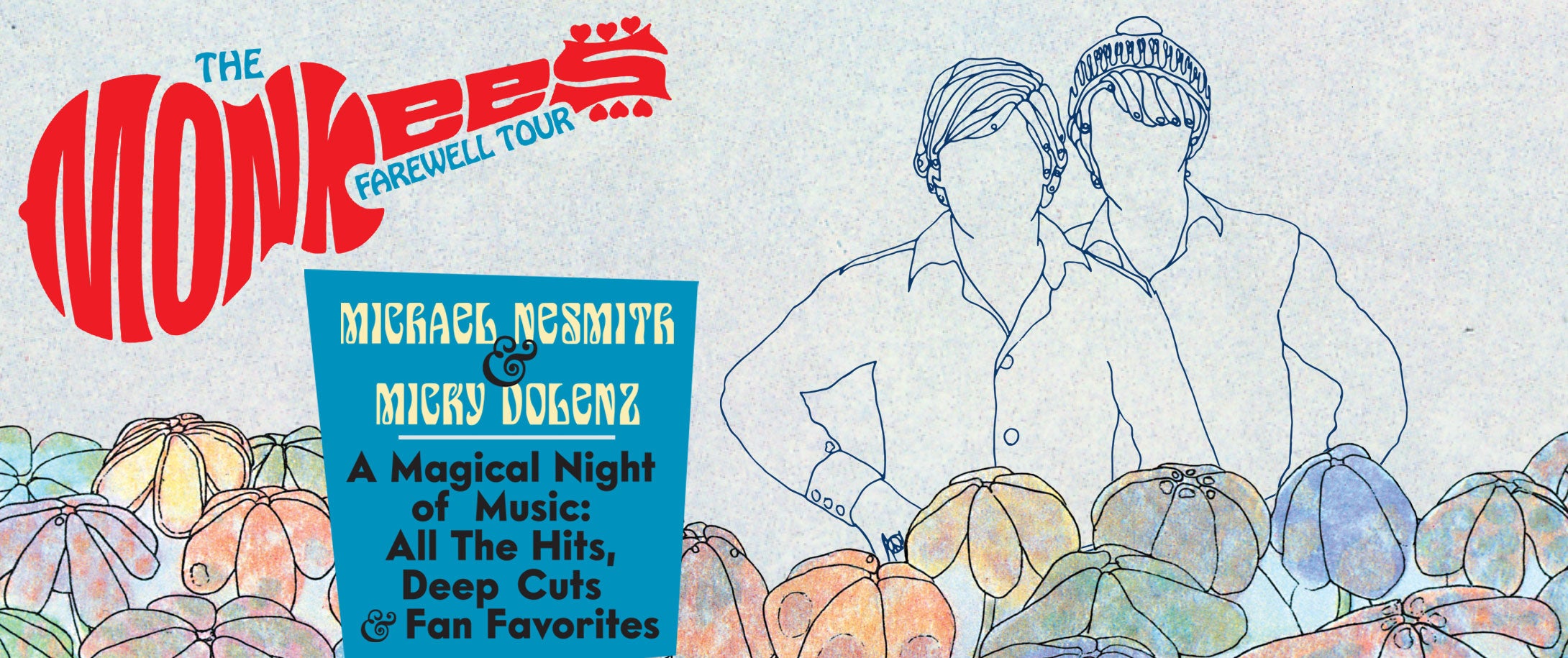 CANCELED The Monkees Farewell Tour with Michael Nesmith & Micky Dolenz
Outback Concerts Presents
It is with regret that The Monkees announce the cancellation of their performance scheduled in Midland/Odessa, Texas for September 27, 2021.
While Mike and Mickey are looking forward to playing Midland/Odessa, Texas at another time and extend their love and appreciation to the fans that were coming to the show, they are going to wait until conditions in West Texas are better for a safer show for them and their fans.
All card transactions will be automatically refunded to the card used to purchase. Please note due to the high volume of rescheduled events expect the refund to process within 14 business days. If you paid in cash for this event you will receive a refund check in the mail within 14 business days.
Once the refund has been processed you will receive a Purchase Refund Confirmation email from [email protected].
All questions/concerns can be sent to [email protected].
COVID-19 Policies & Procedures

Out of an abundance of caution, the Monkees' tour is requiring a negative COVID-19 test within 48 hours prior to entering this event. Or a COVID-19 vaccination card could be shown instead.

Documentation must be shown to a Wagner Noël PAC staff member to gain entry
All persons over the age of 18 must show a matching photo ID with their negative COVID-19 test (taken within 48 hours prior to entering this event). Or a COVID-19 vaccination card with a matching photo ID.
Documentation may also be presented in digital forms, such as a screenshot or photo, on a phone.
For any vaccine documentation in reprinted form (printed copy, phone screenshot, etc.), the entire vaccination card must be visible, or it will not be accepted.

If you are unable to provide the documentation requested to attend this event you can request a refund.

The deadline to request a refund is September 9, 2021, at 5 PM CT

To prevent the spread of COVID-19, Wagner Noël Performing Arts Center will have the following policies in place until further notice. Please read thoroughly.

This is a full capacity event

In accordance with the recommendation by the CDC the face mask policy for patrons of all ages is optional. Wagner Noël PAC highly encourages masks for those who are immune comprised. We ask that patrons be respectful of each other's choices.

Patrons who feel they may have been exposed to COVID-19 or another communicable disease should remain at home.

Many tours or events may choose for reasons of their own to continue to ask patrons to wear a face mask when in the facility. This information will be released at the time tickets go on sale so that patrons may make a choice about their attendance.

Touchless hand sanitizing stations will remain throughout the facility for patron use.

Patrons are encouraged to social distance when possible.

Tickets can be purchased online at wagnernoel.com and can be downloaded and displayed on a mobile device to encourage a touchless entry process.

Only small handbags are allowed in the venue. Bags should be no larger than 8x10x6 inches in size. No backpacks or tote bags allowed. Diaper bags will be searched and tagged. A small clear bag is recommended. The intent is to limit the touchpoints for our employees performing the bag check process.

The Wagner Noël PAC continues to spray a disinfectant barrier every 60-90 days in addition to daily cleanings.

If you are purchasing tickets for a group of people, please share the above information with everyone in your party.

Wagner Noël staff will continue to wear a face mask for the protection of its patrons, tour guests, crew members, and artists.

About The Monkees

Formed in Los Angeles for the eponymous television series, the quartet of Dolenz, Nesmith, the late Peter Tork, and the late Davy Jones brought a singular mix of pop, rock, psychedelia, Broadway, and country to their music. The Monkees' first single, "Last Train To Clarksville," was released in August 1966 and quickly headed for the top spot of the Billboard charts in tandem with the band's self-titled debut album, which held the top slot for 13 of the 78 weeks it remained in the Top 200. (Two decades later, in the midst of a new burst of Monkee-mania, The Monkees popped back onto the charts, bringing the total number of weeks to 102.)

By the time the series aired its final new episode on March 25, 1968, the Monkees had seen three further albums top the charts —More of the Monkees, Headquarters, and Pisces, Aquarius, Capricorn & Jones, Ltd. All were released in 1967, staggeringly enough, racking up several more hit singles, with "I'm A Believer," "(I'm Not Your) Steppin' Stone," "A Little Bit Me, A Little Bit You," "The Girl I Knew Somewhere," "Pleasant Valley Sunday," "Words," "Daydream Believer," "Valleri," and "Tapioca Tundra" all finding their way into the Billboard Top 40. The final tally: 16 million albums and 7.5 million singles sold in a mere 2 1/2 years.

After the series' two-season run, the group went on to star in the cult feature film, Head (co-written by Jack Nicholson) and a TV special (33 1/3 Revolutions per Monkee) while also continuing to record new material. But as the '60s gave way to the '70s, the members of the Monkees eventually gave in to their individual musical interests and went their separate ways.

In February 1986, after MTV broadcast a marathon of The Monkees series, Dolenz, Jones, and Tork reunited for a 20th-anniversary tour, with Nesmith joining them onstage for the Los Angeles date of the tour. In 1996, all four members of the group reunited for a new album (Justus) and TV special (Hey, Hey, It's the Monkees). In the wake of Jones's death on February 12, 2012, the surviving members of the Monkees reunited and performed a series of concerts. The shows were received so triumphantly that Dolenz, Nesmith, and Tork returned the following summer for a tour dubbed, "A Midsummer's Night With the Monkees."

To celebrate the Monkees' 50th anniversary in 2016, the surviving members of the band recorded the critically acclaimed album Good Times (produced by the late Adam Schlesinger). Much like the Monkees' early albums, it featured tracks written for the band by a group of gifted songwriters, including Ben Gibbard (Death Cab for Cutie), Rivers Cuomo (Weezer), Andy Partridge (XTC), and more. Following the passings of Davy Jones and Peter Tork (who succumbed to cancer in 2019), Michael & Micky have honored the music and the memory of The Monkees onstage.