Bill Engvall
Here's Your Sign - Its Finally Time | The Farewell Tour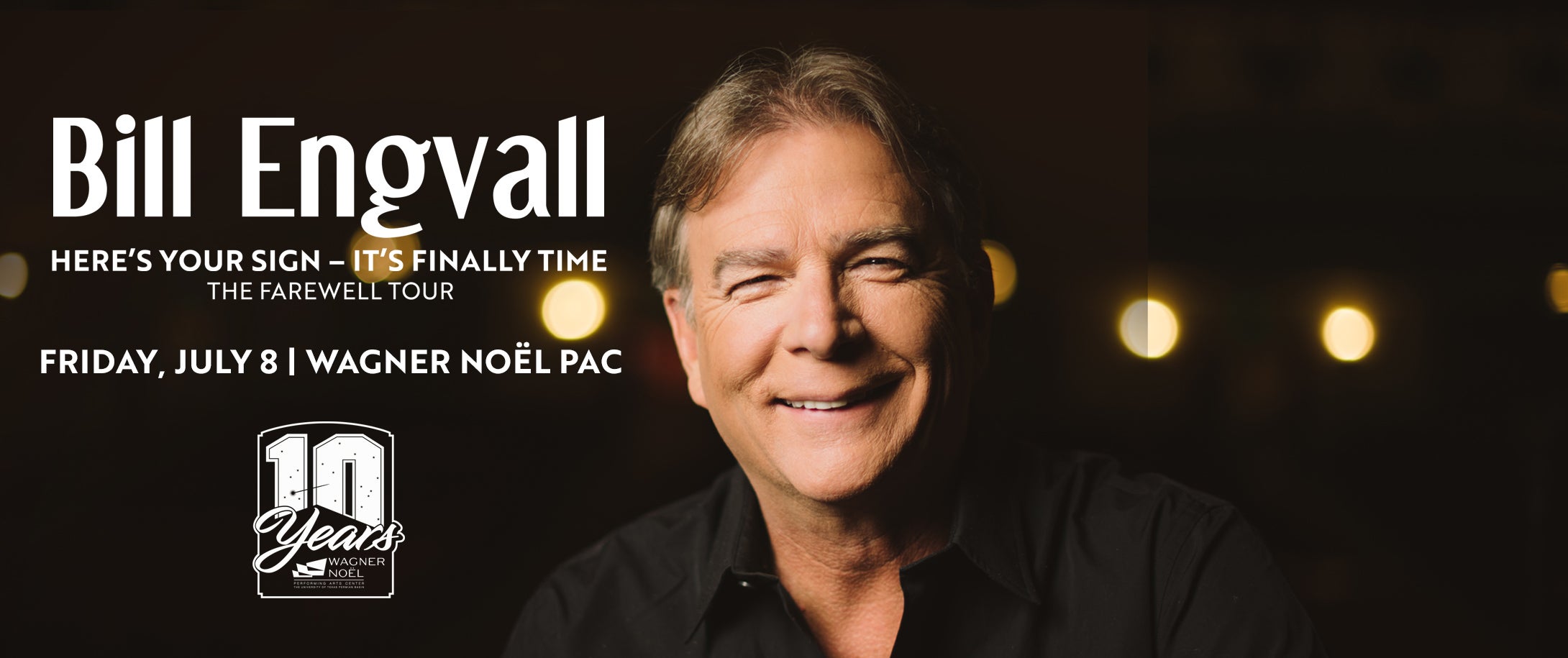 Bill Engvall
Here's Your Sign - Its Finally Time | The Farewell Tour
Please note for all events after January 1, 2022, we will have a clear bag policy with a size limit of 12x12x6" or a non-clear bag/wallet with a size limit of 8x5".
Bill Engvall is a Grammy-nominated, multi-platinum-selling recording artist and one of the top comedians in the country. Bill was seen regularly in a recurring role on the hit FOX sitcom Last Man Standing playing Reverend Paul, staring Tim Allen.
He was recently awarded "Casino Comedian" of the year at the 2019 Casino Entertainment Awards in Las Vegas, NV. He is currently on tour and since 2016, Bill has hosted a weekly podcast "My 2 Cents" with PodcastOne which offers his funny, thought-provoking and unique perspective on just about everything. Bill's latest comedy special "Just Sell Him For Parts" is currently available on VUDU streaming service. In addition to acting and stand-up Bill is also the spokesperson for the insurance company Health Markets.
Related Links

Clear Bag Policy

Please note as of January 1, 2022, we will have a clear bag policy with a size limit of 12x12x6" or a non-clear bag with a size limit of 8x5"

Bill Engvall Bio

Bill Engvall is a Grammy nominated, multi-platinumselling recording artist and one of the top comedians in thecountry. Bill can regularly be seen in a recurring role on thehit FOX sitcomLast Man Standingplaying Reverend Paul.The series, starring Tim Allen, is currently in its ninth andfinal season.He was recently awarded "Casino Comedian" of theyear at the 2019 Casino Entertainment Awards in Las Vegas,NV. He is currently on tour and since 2016, Bill has hosteda weekly podcast "My 2 Cents" with PodcastOne whichoffers his funny, thought-provoking and unique perspectiveon just about everything. Bill's latest comedy special "JustSell Him For Parts" is currently available on VUDU streamingservice.In addition to acting and stand-up Bill is also thespokes person for the insurance company Health Markets. Bill recently wrapped production onA New Seasonwhere hereprises his role of Coach Z, fromCatching Faithin2015. He also had a role inthe thriller,Monster Party, where three teenage thievesinfiltrate a mansion dinner party secretly hosted by a serialkiller cult for the social elite. Bill has been a contestant onnumerous game shows includingHollywood GameNight, Celebrity Family FeudandFunny You ShouldAsk. He was also guest starred onProblematic with Moshe Kasheron Comedy Central.Bill also starred in the2016 moviesWish for Christmasand thrillerThe Neighbor.Bill was a contestant on season 17 of ABC'sDancing withthe Stars, and as a fan favorite, he made it to the finals. Billlent his voice to the animated comedy seriesBountyHunters, which aired on CMT. He previously starred in, andexecutive produced, the TBS sitcomThe Bill EngvallShow. Bill was part of the enormously successfulBlueCollar Comedyconcert films, which sold over 9 million unitsand received a Grammy nomination. He also starred on theWB's hit sketch comedy showBlue Collar TVand in severalsolo specials for Comedy Central. In 2012 he reunited withJeff Foxworthy and Larry the Cable Guy on theThem IdiotsWhirled Tour,which aired as a special on CMT.Bill's first album,Here's Your Sign,is certified platinum andheld the #1 position on the Billboard Comedy Chart for 15straight weeks. His second album,Dorkfish,also debuted at#1 on Billboard's Comedy Chart, as did his subsequentcomedy albums.Bill has written several books, including his2007 autobiographyBill Engvall –Just A Guy.A native of Galveston, Texas, Bill moved to Dallas andworked as a disc jockey with plans of becoming a teacher.While in a nightclub one evening, he tried his hand at stand-up comedy and found that making people laugh was truly hisforte. Soon after, he moved to Los Angeles and went on tostar in the Showtime special,A Pair of Joker's, hostedA&E'sEvening at the Improvand appeared onThe Tonight

ShowandLate Show with David Letterman.In 1992, Billwon the American Comedy Award for "Best Male Stand-upComedian." He appeared in several episodes ofDesigningWomenand co-starred inDeltaandThe Jeff FoxworthyShow.Bill resides in Southern California with hisfamily. More information is available at www.billengvall.com