Cody Jinks
with Special Guests Jason Boland & the Stragglers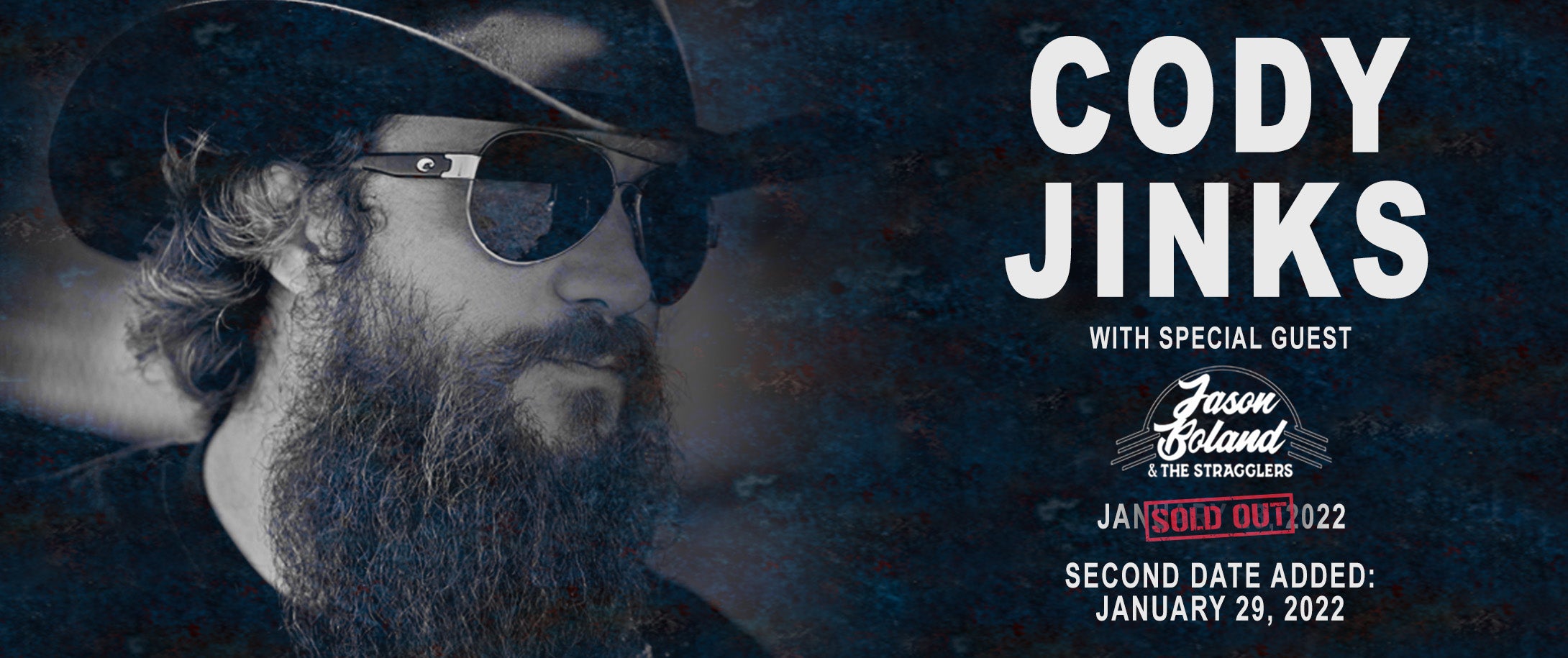 Cody Jinks
with Special Guests Jason Boland & the Stragglers
Renowned singer, songwriter and musician Cody Jinks will perform at Wagner Noël Performing Arts Center on Friday, January 28, 2022. Tickets for the show go on-sale next Friday, December 17 at 12:00 PM local time.
The performance adds to a landmark year for Jinks, who released two new albums last month via his own independent label, Late August Records: Mercy, a solo country record, and None The Wiser, a metal record created with his band Caned By Nod. Stream/purchase Mercy HERE and None The Wiser HERE.
Both produced and engineered by Edward Spear (with co-production on Mercy by Jinks' longtime bandmate Joshua Thompson) and recorded simultaneously at Sonic Ranch in Tornillo, Texas, the two records represent Jinks' uniqueness as an artist, demonstrating his rare ability to successfully create across genres. Although varying sonically and thematically, Mercy and None The Wiser are tied together through Jinks' signature songwriting, which takes yet another step forward with even more perception and grit displayed on both albums.
Released to widespread critical attention, Billboard praises Mercy asserting, "permeates with the influence of artists such as Merle Haggard or Alan Jackson…he can throw down a classic country song with the best of them." Additionally, the Minneapolis Star Tribune declares, "the king of the independent country scene," while Wide Open Country proclaims, "one of the most beloved and successful independent voices in country music." Furthermore, Whiskey Riff praises None The Wiser calling it "fantastic."
Jinks continues to put forth his unique eclectic country sound with Mercy, incorporating a hybrid of soulful elements, including rock, blues, classic country, metal and more. Written entirely during quarantine, Jinks used his time at home to further develop his already accomplished songwriting skills. Working with both longtime friends and heroes, Mercy features collaborations with artists such as Chris Shiflett, Kendell Marvel, Adam Hood, TN Jet, David Matsler, Josh Morningstar, Greg C. Jones and Ward Davis, as well as Jinks' wife, Rebecca.
Meanwhile, None The Wiser takes its cues from arena-caliber classic rock, thrash metal and psychedelic-tinged grunge and marks a full circle moment for Jinks, who performed in a metal band two decades ago before making the shift to country music. The ten tracks on None The Wiser, all of which he wrote with his past bandmate Ben Heffley, are a mix of old and new, some written as recently as this year, while others date back to the early 2000s.
Reflecting on the two projects, Jinks shares, "It was very different recording them at the same time. Literally, it was being in one studio and walking next door and going from this beautiful country song that we're doing to just this really angry metal song, flipping a switch," and continues, "The actual art of writing was the only thing I really had to focus on to keep myself sane…the song comes first. If I'm not writing a great song, then I'm dead in the water. I really, really focused on being a better wordsmith."
In addition to Jinks (vocals), Mercy features his longtime band—Joshua Thompson (bass, background vocals), Chris Claridy (lead guitar, acoustic guitar), Austin Tripp (steel guitar, dobro), David Colvin (drums, percussion) and Drew Harakal (keys, acoustic guitar, background vocals)—while Caned By Nod is Jinks (vocals, guitar), Jacob Lentner (guitars), Aksel Coe (drums) and Calvin Knowles (bass).
With the new albums, Jinks solidifies his reputation as an artist who does things on his own terms. Constantly at work, he was recently named MusicRow's 2020 "Independent Artist of the Year" after receiving the most radio spins for an independent artist and was awarded Entertainer of the Year, Songwriter of the Year and Single of the Year by Texas Radio in 2020. Known for his tenacious grassroots approach and constantly at work, Jinks has continued to receive widespread attention in recent years with Rolling Stone declaring, "one of outlaw country's most popular new stars," while Paste praised, "His roughhewn, homegrown country sound borrows from the usual forebears—Waylon, Willie, Kris, Merle and Johnny among them—while sounding perfectly in sync with today's current breed of Americana insurgent."
Since the release of his 2015 breakthrough record, Adobe Sessions, which features his Platinum-certified and fan-favorite song, "Loud and Heavy," Jinks has gone on to release four more studio albums: 2016's I'm Not the Devil, 2018's Lifers and a pair of self-released 2019 albums, The Wanting and After the Fire, which reached #2 on Billboard's Top Country Albums chart. Moreover, Jinks has sold over 1.5 million equivalent units throughout his career, garnered over 2 billion streams across platforms and has 2.18 million monthly Spotify listeners.
Additional Ticket Information

PLEASE NOTE: THIS PERFORMANCE HAS A TICKET DELIVERY DELAY.
TICKETS WILL BE AVAILABLE FOR DELIVERY BEGINNING JANUARY 14, 2022.

Related Links

COVID-19 Policies & Procedures

To prevent the spread of COVID-19, Wagner Noël Performing Arts Center will have the following policies in place until further notice. Please read thoroughly.

Please note for all events after January 1, 2022, we will have a clear bag policy with a size limit of 8x10x6" or a clutch with a size limit of 6.5x4.5".

This is a full capacity event
In accordance with the recommendation by the CDC the face mask policy for patrons of all ages is optional. Wagner Noël PAC highly encourages masks for those who are immune comprised. We ask that patrons be respectful of each other's choices.
Patrons who feel they may have been exposed to COVID-19 or another communicable disease should remain at home.
Touchless hand sanitizing stations will remain throughout the facility for patron use.
Patrons are encouraged to social distance when possible.
Tickets can be purchased online at wagnernoel.com and can be downloaded and displayed on a mobile device to encourage a touchless entry process.
Only small handbags are allowed in the venue. Bags should be no larger than 8x10x6 inches in size. No backpacks or tote bags allowed. Diaper bags will be searched and tagged. A small clear bag is recommended. The intent is to limit the touchpoints for our employees performing the bag check process.
The Wagner Noël PAC continues to spray a disinfectant barrier every 60-90 days in addition to daily cleanings.

Wagner Noël staff will continue to wear a face mask for the protection of its patrons, tour guests, crew members, and artists.