SOLD OUT Landshark – M'Ville TEQ Presents Jimmy Buffett & The Coral Reefer Band
Wagner Noël Performing Arts Center's 10 Year Anniversary Concert Presented in Part by Odessa Arts and City of Midland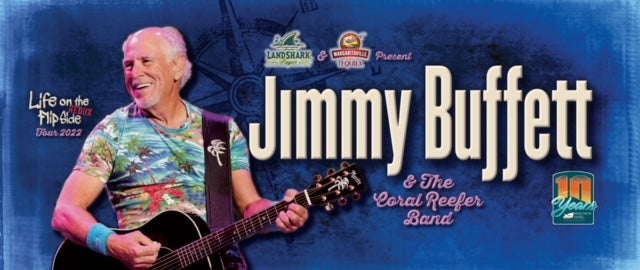 SOLD OUT Landshark – M'Ville TEQ Presents Jimmy Buffett & The Coral Reefer Band
Wagner Noël Performing Arts Center's 10 Year Anniversary Concert Presented in Part by Odessa Arts and City of Midland
Singer/songwriter Jimmy Buffett has been regaling audiences for over five decades with songs about the faces and places he's seen during his lifetime journey along the road less traveled. With Hemingway's eye for detail and Mark Twain's inclination for mischievous humor, Buffett's music tells the stories of the hustlers, the beach bums, and the pirates from all corners of the world. Through it all are woven the themes of escapism, wanderlust, and an unbridled curiosity that makes life a journey worth taking.
In 1977 came "Margaritaville." A laid-back anthem about escapism and life in the tropics, the song spent 22 weeks on the Billboard chart, peaking at number 8. It catapulted Jimmy to national fame and, nearly a decade later, inspired Jimmy to launch a business empire.
Today, after 27 studio albums, New York Times bestselling books, a Broadway play, numerous movie, and television appearances, Grammy nominations, and Academy of Country Music and Country Music Association awards, it's still the music that inspires Jimmy. He's just as likely to pop up and play an impromptu set alone at a Caribbean beach bar as he is to be on stage in front of 30,000 loyal 'Parrothead' fans. And after logging millions of miles on the road, on the ocean and in the air, distant ports still beckon and the same unbridled curiosity drives him to keep looking for that next story to share via song.
Additional Ticket Information

Pre-sale has ended for Jimmy Buffett. Tickets will be available until sold out tomorrow (3/25/22) at 10 AM CT at WagnerNoel.com and at 1 PM CT at the Box Office - while supplies last.

Tickets go on sale Friday, March 25, 2022, at 10 AM CT at WagnerNoel.com and at 1 PM CT at the Wagner Noël PAC Box Office. If you need ADA seats please purchase ADA seats. Relocations on the day of the show will not be available. *There will be a limited amount of tickets available for the general on sale (3/25/22).

Margaritaville Tailgating Passes $85 Per Vehicle - Click for Policies

Jimmy Buffett and The Coral Reefer Band Margaritaville Tailgating - $85 plus Fees


Wagner Noël Performing Arts Center (PAC) has designated a lot for Margaritaville Tailgating, where Jimmy Buffett fans are invited to come together for their pre-show festivities in a safe, fun atmosphere. The lot is not a paved lot.

Parking passes purchased in advance will require the purchaser's photo ID upon arrival. Margaritaville Tailgating parking passes are nontransferable. Parking passes are valid for one vehicle per parking pass.


Standard Vehicle Tailgating Parking Pass - $85*. Each pass allows for TWO (2) standard parking spaces. (Sedan, pick-up truck, SUVs, etc.) and a TWO (2) cooler limit.

*Plus applicable Etix order fees

The placement of your vehicle within the Margaritaville Tailgating Lot is determined on a first-come, first-served basis. Saving spaces will not be permitted. No vehicle re-entry is permitted.

Wagner Noël PAC's Margaritaville Tailgating Lot opens at 11:00 AM CT on Thursday, May 5, 2022. No tailgating is permitted in any other lots at Wagner Noël PAC or UTPB Midland Campus (CEED and Engineering Building) and will be strictly enforced.

No towing or attachments of any kind are permitted. This includes boats, barbeques, trailers, vehicles, etc.

TAILGATING GUIDELINES

Wagner Noël PAC will enforce a zero-tolerance policy on any inappropriate behavior. At its discretion, Wagner Noël PAC may terminate tailgate activities or take other appropriate action against individuals, groups, or organizations whose conduct is irresponsible, unreasonable, or inconsistent with Wagner Noël PAC regulations, ordinances, or state and local laws.

For the safety and enjoyment of all, please keep the following guidelines in mind while tailgating for Jimmy Buffett and the Coral Reefer Band.

Guests who have engaged in excessive consumption of alcohol or other substances may be subject to review by UTPB Police and Wagner Noël PAC Security.

TAILGATING CONDUCT

Fans engaging in public indecency, disorderly conduct, lewd behavior, and other violations of state laws are subject to disciplinary action by UTPB Police Department.

BARBEQUES & TRASH

No propane grills
No charcoal or wood grills or smokers.
Please pack out what you pack in.
Please do not leave trash in the parking lots. Additional trash containers are located throughout the parking lot for use.

NO SOLICITING

Wagner Noël PAC does not permit unauthorized soliciting or collecting of contributions, vending, and distribution of fliers or other promotional or advertising materials.

WAGNER NOËL PAC HOURS & ACTIVITY

Margaritaville Tailgating Lot will open at 11:00 AM CT for those with pre-purchased tailgating parking passes. The purchaser of advance lot passes must be present in the vehicle and show a valid ID. Parking passes are non-transferable.
All drive lanes must remain clear and open for other patrons to park their vehicles and access emergency vehicles.
Vehicles and any activity must remain within the painted parking stall lines- do not infringe on the space of others or in a space that is unpaid.
There is no power access or other utility connections, services, or dumping stations available on-site. Please plan accordingly.
Selling of any items is prohibited including food, beverages, merchandise, games, etc.
Wagner Noël PAC does not permit advertising, banners or signs, or distribution of promotional items on the property. Guests may be asked to remove banners or signs.

PROHIBITED ITEMS

Pets/Animals (See ADA Accessibility page for more information.)
Axes
Charcoal Wood BBQs and Smokers
Fire Pits and Bon Fires
Product Branded EZ-Ups
Drones/Remote Control Aircraft, Toys & Cars/Boats
Drugs/Drug Paraphernalia (Including Cannabis & Cannabis Products)
Fireworks/Explosives/Open Flames/Tiki Torches
Flashlights Over 5.5″
Glass, Glass Solar Panels, Glass Mirrors, Glass Anything
Golf Carts, Dune Buggies, Off-Road Motorcycles, Motorized Scooters, Horses, Motorized Coolers, Hover Boards & Segways
Machetes
Metal Stakes
Promotional Items
Sand
Scissors
Slip n' Slides
Pools
Spray Paint
Sporting Equipment (Bats, Clubs, Sticks, Metal, Wood, Golf Clubs, etc.)
Weapons of Any Kind (Guns, Ammo, Pocket Knives, Pepper Spray, Tasers, etc.)
Wrapped or Sponsored Vehicles (Rental company logos are excluded)
Toilets (including makeshift)

CLEAR BAG POLICY


Wagner Noël PAC has a clear bag policy for bags entering Wagner Noël PAC. The size limit of the clear bag is 12x12x6" or a wallet with a size limit of 8x5." This policy does not include bags brought to the tailgate. Any bag that you wish to bring inside Wagner Noël PAC will need to meet the clear bag policy requirement.


We thank you in advance for adhering to these tailgating guidelines. These guidelines help to ensure safety and provide for an effective means of crowd control. We ask that all patrons be respectful to one another while enjoying their tailgating experience.

* Wagner Noël PAC reserves the right to amend or make changes to these policies at any time.

Main entrance doors to the venue open 60 minutes prior to the event start time (7:30 PM start time).

COVID-19 Policies & Procedures

To prevent the spread of COVID-19 and other communicable diseases, Wagner Noël Performing Arts Center will have the following policies in place until further notice. Please read thoroughly.

Please note for all events after January 1, 2022, we will have a clear bag policy with a size limit of 12x12x6" or a wallet with a size limit of 8x5". This policy includes diaper bags.

In accordance with the recommendation by the CDC, the face mask policy for patrons of all ages is optional. Wagner Noël PAC highly encourages masks for those who are immune comprised. We ask that patrons be respectful of each other's choices.
Patrons who feel they may have been exposed to COVID-19 or another communicable disease should remain at home.
Touchless hand sanitizing stations will remain throughout the facility for patron use.
Patrons are encouraged to social distance when possible.
Tickets can be purchased online at wagnernoel.com and can be downloaded and displayed on a mobile device to encourage a touchless entry process.
The Wagner Noël PAC continues to spray a disinfectant barrier every 60-90 days in addition to daily cleanings.