Josh Turner - Long Black Train 20th Anniversary Tour
With Special Guest Grace Tyler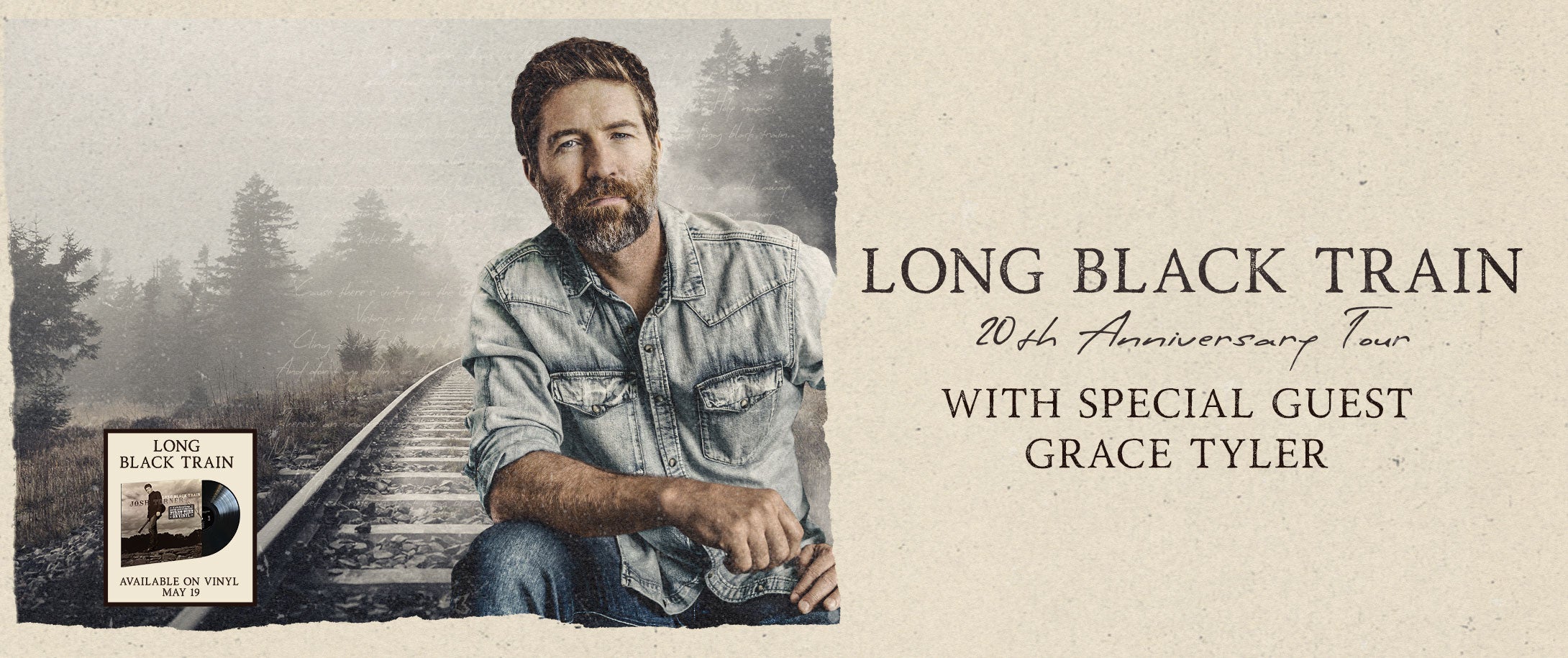 Josh Turner - Long Black Train 20th Anniversary Tour
With Special Guest Grace Tyler
Please note for all events we have a clear bag policy with a size limit of 12x6x12" or a non-clear bag/wallet with a size limit of 8x3x5". This policy includes diaper bags.
---
Country music star Josh Turner will make his Wagner Noël Performing Arts Center (PAC) debut this fall. Turner is bringing his Long Black Train 20th Anniversary Tour, Presented by AEG, to the Permian Basin on Saturday, October 21, 2023.
With his deep bass voice, Turner has sold more than six and a half million records, reached 4.8 billion global streams, and has become a favorite and unforgettable hitmaker on country radio. With timeless songs like "Long Black Train" and "Why Don't We Just Dance," Turner's five No. 1 singles include "Your Man."
Tickets go on sale Friday, April 14, 2023, at 10 AM at WagnerNoel.com and at 1 PM CT at the venue Ticketing Office.
About Josh Turner
Josh Turner has received six Inspirational Country Music Awards, and has been nominated for two GRAMMY Awards, five CMA Awards, two ACM Awards, one CMT Award, and seven ACA Awards. Turner released his first Christmas album, King Size Manger, in 2021 and accompany vinyl and DVD in 2022. To support music and arts education, he created The Josh Turner Scholarship Fund For The Arts to help students pursue their studies in these fields. Turner and his wife Jennifer, whom he met as a student at Nashville's Belmont University, have four sons. For more information, please visit www.joshturner.com
Related Links

About Grace Tyler

It's hard to imagine a world where you can get a heady breath of fresh air before any of the dust settles. Until you meet Grace Tyler.

The brand new country singer-songwriter has never let the dust settle, just like she sings in her recent single "Dust," which is exactly what Nashville needs right now. A refreshing voice with a novel perspective on falling in and out of love, and moving on when staying put was never an option.

"I'm proud of where I come from, but I was raised up to go where the road runs on and on and on. I never let the dust settle, never made for slowing down," Tyler sings on "Dust." And it's more than just what she sings. It's who she is.

At just 6 years old, Tyler was singing Patsy Cline's "Crazy" at a kid's karaoke night near her hometown of Frisco, Texas. By 14, she was playing venues across the Texas country music red dirt circuit. By 16, she'd caught the attention of some Nashville music industry executives. By 17, she was coming to Nashville to start writing songs, cutting music, and getting ready to start Belmont University. And now? Her music is as ready as she is.

After landing in Nashville after high school, Tyler managed to balance the life of a college student with that of an aspiring singer-songwriter. So while she spent her days on campus, she spent her nights and weekends performing with residencies at Whiskey Row and The Twelve Thirty Club, and gigging around town at places like Whiskey Jam, the Listening Room Cafe, 3rd and Lindsley, Tin Roof, plus fairs and music festivals all over the south. "I was so shy as a kid, but for some reason, give me a microphone and a stage and this whole new person comes out. That's why I felt very drawn to this," Tyler said of her Nashville home. "It felt like I belonged here. I'd never been in a place where everybody was interested in music. Everybody here understands me and gets me and knows like what it's like to be this passionate about music, and wants to write music and play music and never stop."

Which is exactly what Tyler's been doing, and now she's ready to share everything she's accomplished with her first batch of songs: "Dust," "Cowboys & Tequila," "Bad Boy," "My Mistake," "Whatever It Is," and "Texas & You."

And while Tyler's solid vocals remain steadfast in every song, every song showcases a different side of her sound. That was no accident. Tyler cast a wide net when it came to choosing songwriters to team up with, and she did the same with producers. That's why you'll see names like Lee Brice and Brad Hill in the credits. For someone so young, it's a wise move to make sure that the first music you put out into the world doesn't all sound the same.

That may be because the music she listened to growing up didn't all sound the same. Besides Patsy Cline, Tyler says her influences were Texas artists at first: George Strait, Pat Green, Randy Rogers and Sunny Sweeney. Growing up in Texas, she explained, meant a different outlook on country music: there's country music, and there's Texas country music. "When people ask me if I'm a Texas country artist, I like to say that I'm a country artist from Texas. I have fiddles in my music, but it's not just that. Texas is still where my roots are, but now I feel more like a Maren Morris or a Miranda Lambert. Or like a twist between the two," she said. "I'm just lucky I'm starting this at a time when women are having such an impact on country music."

And seeing life through that female lens gave Tyler an definite edge when she first tried her hand at songwriting. "I hated writing at first. It's hard. It's so, so hard. Putting my emotions down has never been a strong suit of mine, and I usually don't like to burden other people with my emotions. But then I realized that that's what songwriting is: burdening people with your emotions and seeing how they can connect with that," she said. "I knew I needed to write my own songs, because I couldn't just sing country cover songs for the rest of my life."

At her very first songwriting session in Nashville, Tyler wrote "My Mistake." And here's the gist of it: "It's about my high school boyfriend, who broke up with me even though we'd planned on going to Belmont together. We even made our class schedules together. I knew God was testing my patience, but it ended up being the inspiration I needed to write. The song's about picturing your life with a person, and thinking that you're both on the same page, and then being completely blindsided and seeing that he did want that life. But with somebody else," she said.


"My music doesn't sound like anybody else's, and I think that's what scared me. I was scared of sounding vulnerable and of being different. But now I know that being different is what makes you stand out, and what makes you authentic."

That authenticity comes through when you hear Tyler's music, and when you see how her point of view is deeply connecting with fans in real life and on social media. But still, after her first tastes of success, she isn't going into this career with rose-colored glasses.

"I signed up for all of it. The good and the bad. So one day I'm in the studio with Lee Brice, and the next day I might be playing a songwriter's round with less than 10 people in the whole room. That's just how it is. That's the journey," she said. "The best parts don't seem as good without the not-so-good parts. I always remember how blessed I am, even when I'm playing for the hungover crowd on Lower Broadway at 10:00 in the morning."

"I'm here for all of the peaks and valleys, because no matter how it's happening, it's happening. And I get to do what I love to do."