Julio Iglesias The 50th Anniversary Tour
Presented by Live Nation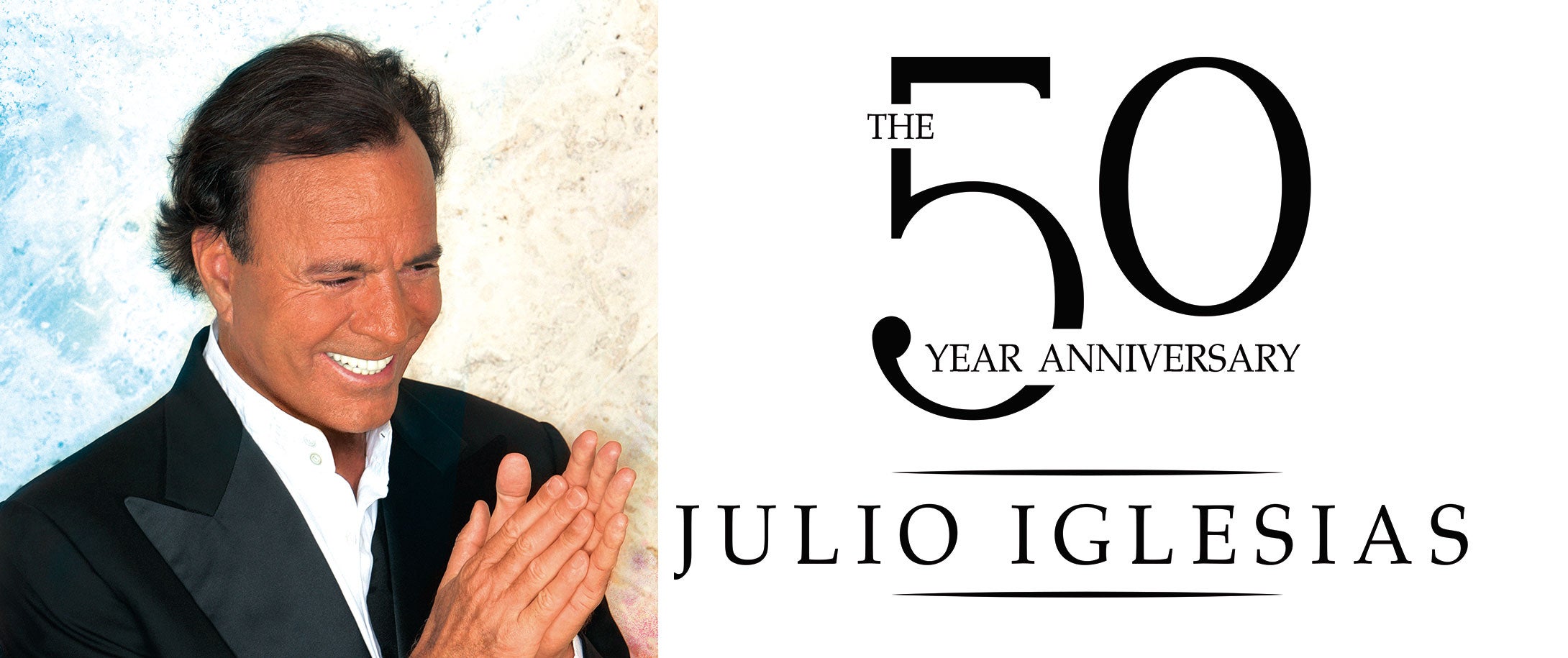 Julio Iglesias The 50th Anniversary Tour
Presented by Live Nation
Julio Iglesias is the most popular Latin artist in music history, having sold over 300 millions albums worldwide.
Over the course of an unstoppable career spanning 47 years, Julio Iglesias has achieved 2600 gold and platinum records. He has performed more than 5000 concerts, throughout the world and millions of people have watched him live.
Julio Iglesias has recorded with artists such as Frank Sinatra, Plácido Domingo, Stevie Wonder, Willie Nelson, Diana Ross, Dolly Parton, Art Garfunkel, Paul Anka, All4One, Charles Aznavour, Sting, The Beach Boys, Nana Mouskouri, Alejandro Fernández, Albert Hammond, Coco Lee, Tomoe Shinohara, Françoise Hardy, amongst many others.
He has also sung with the majority of European and Latin American artists, from the seventies up to the present day, in various concerts and television programmes.
Julio has been the recipient of numerous awards and distinctions, from all over the world, amongst which attention might be drawn to the following: two Guinness Records (as the Artist who has sung in most languages and as the Best-selling Latin Artist at global level), a star on the Hollywood Walk of Fame, the Medal of the City of Paris and admittance to the Order of Isabella the Catholic. Moreover, he has been awarded the highest distinctions from the majority of Latin American companies.
In 1989, he was appointed a United Nations Special Representative for Performing Arts, representing UNICEF for many years, an institution that remains close to his heart.
He is the recipient of the American Music Award and the "ASCAP Pied Piper Award", in addition to being the first foreign artist to be honored by the Chinese Ministry of Culture, as the artist who has sold most records in that country.
He has also been honored in the Grammy and the Billboard Awards.
In recent years, he has been decorated as a knight of the French Legion of Honour and with the Spanish Gold Medal for Merit in Fine Art, receiving two historical awards: "Best-selling Latin Artist in History" and "Artist who has sold the most records in Spain" (23 million). Both of these honors were presented by his dearest friend, Rafa Nadal.
On 1 April 2013, he was the recipient of an award in Beijing, as the "Most Popular Foreign Artist in the History of China", which was presented by the renowned Chinese pianist, Lang Lang. Furthermore, he received a second Guinness Record as the "Best-selling Latin Artist at a global level".
In May 2015, Berklee College of Music, the largest independent college of music in the world, named Julio Iglesias Doctor Honoris Causa, for his achievements and his influence on music at a universal level.
In 2016, Julio Iglesias has been awarded The BrandLaureate Legendary Award, by the Asia Pacific Brands Foundation, in recognition of his achievements as the legendary music icon whose name is renowned as a remarkable force to be reckoned with in the fields of music and entertainment.