Scott Bradlee's Postmodern Jukebox
The Grand Reopening Tour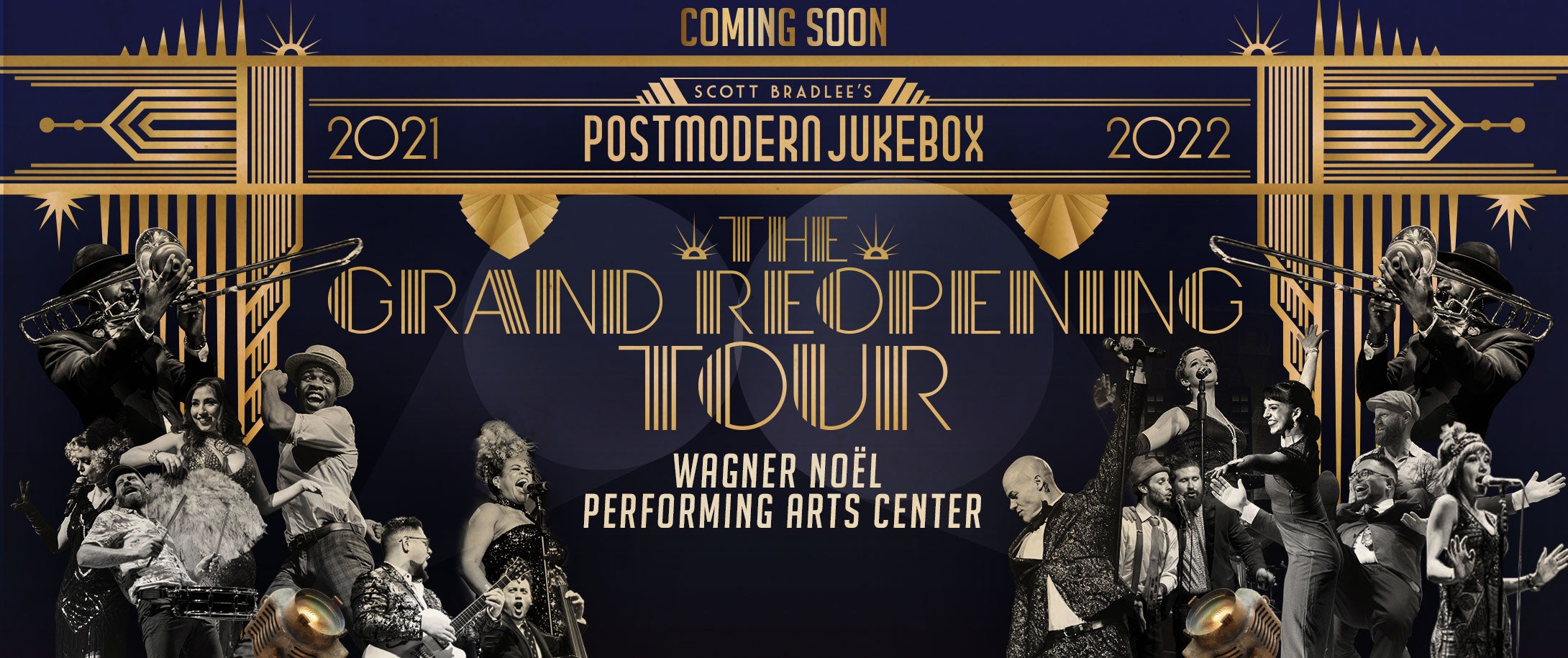 Scott Bradlee's Postmodern Jukebox
The Grand Reopening Tour
Early last year, pop-jazz phenomenon Postmodern Jukebox set out to celebrate a new-millennium Roaring 20s, promising audiences across the country and around the world "the most sensational '20s party this side of The Great Gatsby."
Well, we all know what happened next. Just seven dates into the Welcome to the Twenties 2.0 Tour, PMJ creator Scott Bradlee pulled the tour off the road and made the decision to postpone the remaining dates — many of them sold out — as a global pandemic took its toll, silencing live music for more than a year.
This fall, the wait is finally over and Postmodern Jukebox, the time-twisting musical collective known for putting "pop music in a time machine," are set to make the '20s roar again! Kicking off in September, The Grand Reopening Tour will bring PMJ back to thrill music-starved audiences in the U.S., Canada, the U.K., Australia, New Zealand and Europe, performing some of modern music's biggest hits in the classic styles of bygone eras.
"I'm grateful to be able to create and collaborate with so many talented people, and playing live to a theater full of music fans is something that we've all really missed," says Bradlee. "We're fortunate to have so many incredible fans worldwide that have enabled PMJ to become a global touring act, and we're looking forward to bringing outstanding talent and classic sounds to every corner of the globe once more. It's a Grand Reopening, but it's also a Grand Reunion – not just for our talented cast and crew, but also for PMJ and fans of classic, 'Old School' entertainment."
As always with PMJ's dazzling live shows, The Grand Reopening Tour will feature an ensemble of multi-talented singers and musicians bringing Bradlee's generation-spanning arrangements alive night after night. The core ensemble is often joined by surprise guests to make each concert unique and unpredictable – making for one of the most thrilling live music experiences of this and any other time period. MusicInsight.com put it quite simply in the Before Times: "Go see Postmodern Jukebox. Stop whatever you're doing, right now, and go see them!"
Related Links

VIP Packages

Postmodern Jukebox - Meet & Greet Package - $184.99

One premium reserved seat (Pit Seating)
Exclusive meet & greet with members of Postmodern Jukebox
Personal photograph with members of Postmodern Jukebox
Collectible tour poster; autographed by members of Postmodern Jukebox
Official meet & greet laminate
Limited availability

Postmodern Jukebox - VIP Tour Package - $134.99

One premium reserved seat (Pit & Orchestra Center Seating)
Collectible tour poster; autographed by members of Postmodern Jukebox
Official VIP laminate
Limited availability

For questions regarding the VIP packages, please reach out to [email protected].

VIP merchandise will be distributed at the show.

COVID-19 Policies & Procedures

To prevent the spread of COVID-19, Wagner Noël Performing Arts Center will have the following policies in place until further notice. Please read thoroughly.

This is a full capacity event
In accordance with the recommendation by the CDC the face mask policy for patrons of all ages is optional. Wagner Noël PAC highly encourages masks for those who are immune comprised. We ask that patrons be respectful of each other's choices.
Patrons who feel they may have been exposed to COVID-19 or another communicable disease should remain at home.
Many tours or events may choose for reasons of their own to continue to ask patrons to wear a face mask when in the facility. This information will be released at the time tickets go on sale so that patrons may make a choice about their attendance.
Touchless hand sanitizing stations will remain throughout the facility for the patron use.
Patrons are encouraged to social distance when possible.
Tickets can be purchased online at wagnernoel.com and can be downloaded and displayed on a mobile device to encourage a touchless entry process.
Only small handbags are allowed in the venue. Bags should be no larger than 8x10x6 inches in size. No backpacks or tote bags allowed. Diaper bags will be searched and tagged. A small clear bag is recommended. The intent is to limit the touchpoints for our employees performing the bag check process.
The Wagner Noël PAC continues to spray a disinfectant barrier every 60-90 days in addition to daily cleanings.

Wagner Noël staff will continue to wear a face mask for the protection of its patrons, tour guests, crew members, and artists.