Robert Earl Keen - World Tour of Texas
With Special Guests Reckless Kelly, Presented by AEG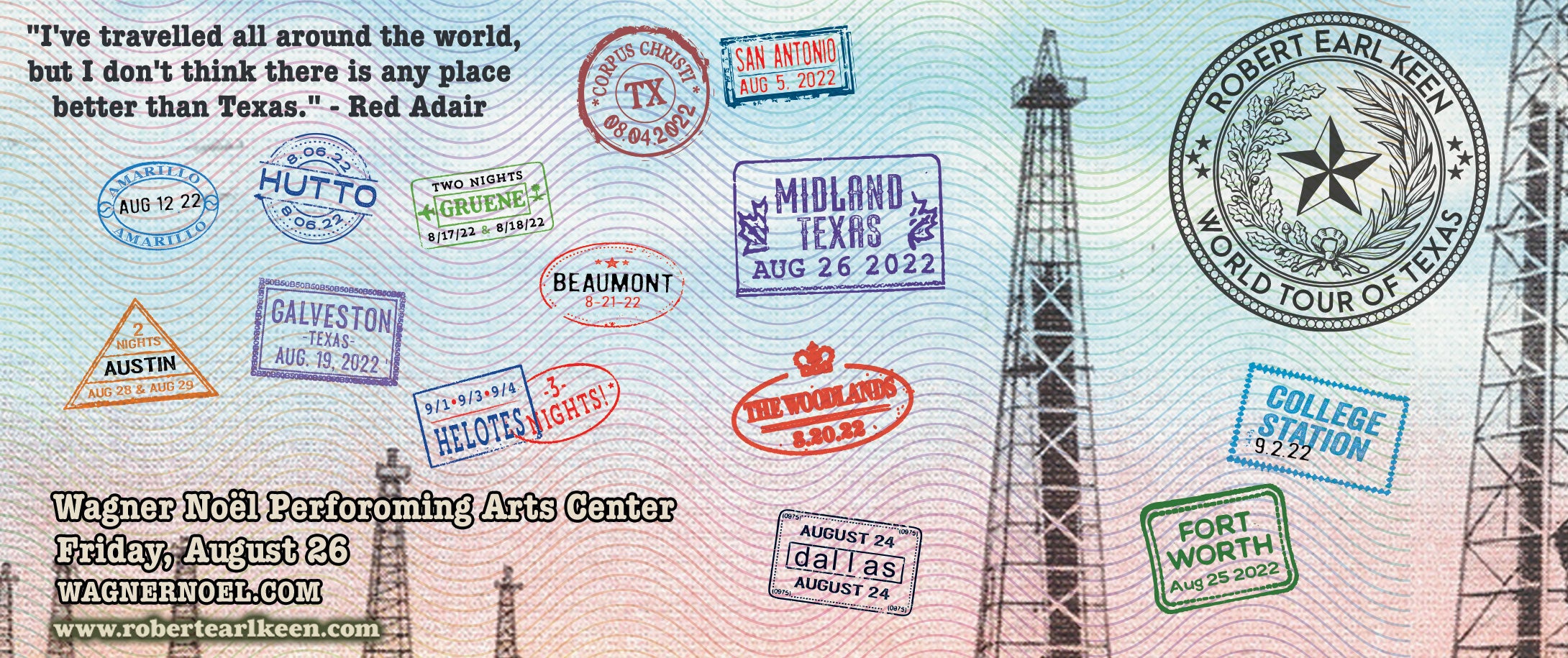 Robert Earl Keen - World Tour of Texas
With Special Guests Reckless Kelly, Presented by AEG
Please note for all events after January 1, 2022, we will have a clear bag policy with a size limit of 12x12x6" or a non-clear bag/wallet with a size limit of 8x5". This policy includes diaper bags.
The road is ending soon. Legendary Texas songwriter and entertainer Robert Earl Keen will wrap up 41 years on the road with the final leg of his final tour in his home state of Texas August 4 - September 4.
Retiring from performing at the top of his game, Keen's World Tour of Texas begins August 4 in Corpus Christi and includes stops at Texas institutions including Wagner Noël Performing Arts Center on Friday, August 26, 2022.
Keen continues to blaze a trail for other artists in partnership with producer Clara Rose and their Americana Podcast. In 2019, Americana Podcast launched with the inaugural episode featuring Jamestown Revival and Lucero. Subsequent Americana Podcasts include artists Billy Strings, Lori McKenna, Drew Holcomb, I'm With Her, and many more.
Robert will continue to write music and create, host his popular podcast, support young artists, and follow his artistic muse where ever it takes him.
Clear Bag Policy

Please note for all events after January 1, 2022, we will have a clear bag policy with a size limit of 12x12x6" or a non-clear bag/wallet with a size limit of 8x5". This policy includes diaper bags.

Reckless Kelly's Bio

RECKLESS KELLY Willy Braun (vocals, guitars, harmonium, percussion, harmonica) - Cody Braun (fiddle, mandolin, tenor guitar, harmonica, vocals) - Jay Nazz (drums, percussion) - Joe "Bass" Miller (bass) For nearly 25 years, Reckless Kelly has graced the musical landscape with a high-powered form of Americana, equally rooted in raw passion, refined musicianship, and gritty authenticity. With the dual release of two new albums—American Jackpot and American Girls—the Idaho-bred band presents a beautifully detailed portrait of their beloved country, turning their nuanced songwriting to its many glories and tragedies. While one batch of songs centers on slice-of-life storytelling and the other ex-plores the complexities of human connection, the collective body of work unfolds with a profound and often eye-opening attention to the subtleties of American life. Although Reckless Kelly initially intended to make just one album, the project took on a life of its own once they headed into the studio. "I wanted to produce this one by myself, just to try that out, and I made sure to book plenty of studio time to get it done right," says Willy. "We ended up mov-ing along really fast, so I pulled out a few more songs and figured we'd end up using them down the road. Before we knew it, we had enough material for two really good records." The follow-up to their acclaimed 2016 album Sunset Motel, American Jackpot and American Girls em-body a wonderfully eclectic sonic palette, achieved with the help of V.I.P. guest musicians like Gary Clark Jr. and Charlie Sexton, along with several members of their own legendary family (including Uncle Gary Braun on chromatic harmonica and their father Muzzie Braun on lead and harmony vocals). Recorded at Arlyn Studios in their adopted hometown of Austin, both albums abound with an unbridled vitality—an element that has much to do with the band's deliberate decision to keep pre-production to a minimum in order to harness the magic of in-studio spontaneity. "There's something incredible about the first time you play a song really well together, and we don't ever want to waste that take on the rehearsal room," Willy notes. One of many songs penned with Idaho-born singer/songwriter Jeff Crosby, "I Only See You With My Eyes Closed" provides one of American Girls most haunting moments, its intensity heightened by Sexton's ethereal guitar work. But on "Lost Inside The Groove," American Girls turns impossibly ju-bilant, bringing swinging rhythms and a fiery guitar solo to the song's expression of lovestruck ado-ration. "Shawn Sahm sent me that song idea, so we worked it out and had him come down and play guitar and Vox Continental organ," explains Willy, referring to the son of Sir Douglas Quintet/ Texas Tornados founder Doug Sahm. Though the two brothers first forged their musical partnership back in Idaho, they later decamped to Bend, Oregon, where they quickly linked up with Jay Nazz. Soon after forming Reckless Kelly (whose name nods to the legend of Australian highwayman Ned Kelly), the three musicians relocat-ed to Austin and rounded out the lineup with bassist Joe Miller and guitarist David Abeyta (who ex-ited the band after the release of Sunset Motel). Over the years, they've delivered a string of critically lauded albums, including 2011's Grammy-nominated Good Luck & True Love and 2013's Grammy-winning Long Night Moon. With the release of American Jackpot and American Girls, Reckless Kelly hopes to lead listeners to thoughtful reflection on their own experience of living in America, and possibly invite a certain pur-poseful nostalgia. Mostly I just hope these songs remind them of all the different aspects of grow-ing up in America, and feeling so lucky to live here," says Willy Braun.