Scott Bradlee's Postmodern Jukebox
Welcome to the Twenties 2.0 World Tour Presented by AEG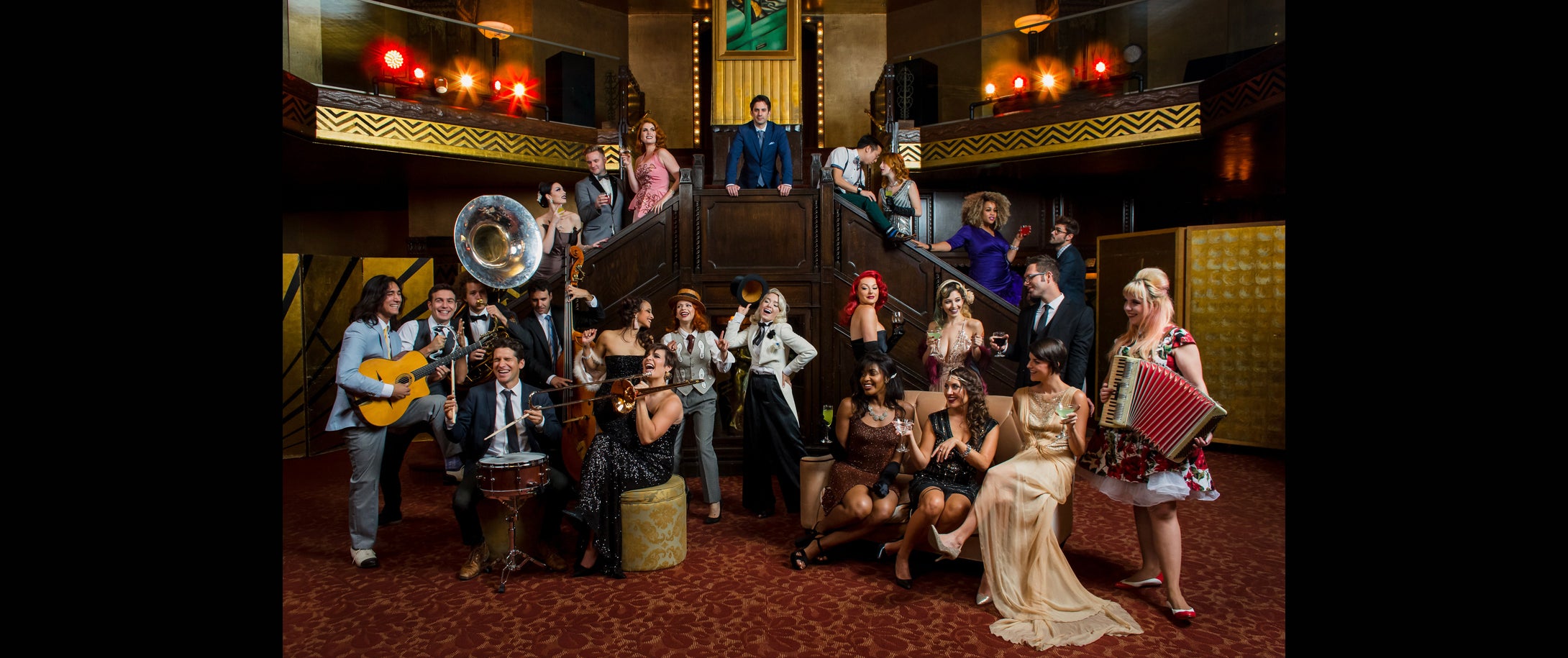 Scott Bradlee's Postmodern Jukebox
Welcome to the Twenties 2.0 World Tour Presented by AEG
To usher in the upcoming Twenty-Twenties, famed time-twisting musical collective Postmodern Jukebox will circumnavigate the globe in 2019 on their Welcome to the Twenties 2.0 Tour. The tour is meant to prepare the world for a new decade -- one that Postmodern Jukebox creator Scott Bradlee hopes will see a return to the style and craftsmanship that typified the music of past generations.
"Last time around the 'Twenties gave us Jazz, America's one true art form. Who knows what is possible in the 2020s?" says Bradlee. "One thing that is for sure is that there are a lot of folks that are tired of the clickbait headlines, mindless reality TV, and smartphone addiction that has only served to divide people in the last decade. We're using our small corner of the pop culture space to tell people to forget their troubles, and come join us for a night of celebrating true musical talent and timeless style - live and in real life."
The Postmodern Jukebox, Welcome to the Twenties 2.0 Tour, will host official Twenties 2.0 initiation performance parties in nearly 250 cities.
"When creating a touring version of the Postmodern Jukebox concept, we work on pairing the right talent with the right material and building a unique and amazing experience for Postmodern Jukebox fans," Bradlee says. "Get ready for the most sensational '20s party this side of The Great Gatsby."
Started by Bradlee in 2009, Postmodern Jukebox (PMJ) has gone on to amass over one billion YouTube views with 3.5 million subscribers, and have chalked up more than 1.7 million fans on Facebook. For the past half decade, PMJ has toured the world, playing hundreds of shows to sold-out houses on six continents. They've also performed on shows like "Good Morning America," topped iTunes and Billboard charts, and caught the attention of NPR Music, NBC News and a wide array of celebrity fans.
VIP Packages

POSTMODERN JUKEBOX GOLD VIP PACKAGE $170.00

Each package includes:
• 1 Premium Seat Location in the First 10 Rows
• Post Show Meet & Greet and Photo Opportunity with members of Postmodern Jukebox
• An Exclusive Postmodern Jukebox Limited Edition Tour Poster
• 1 Commemorative VIP Laminate (Your pass to access the Meet & Greet)


POSTMODERN JUKEBOX SILVER VIP PACKAGE $120.00

Each package includes:
1 Premium Seat Location in the First 10 Rows
• An Exclusive Postmodern Jukebox Limited Edition Tour Poster


DISCLAIMER/CONFIRMATION LANGUAGE: Thank you for purchasing a Postmodern Jukebox VIP Package! All package elements will be rendered invalid if resold. Name changes will only be issued at the sole discretion of 23/7 Global. If you purchased a VIP Package, your instructions will be sent to you via email no later than 3 days prior to the concert. If you do not receive instructions 3 days prior please email [email protected]. All Meet & Greet Tickets are will call only and will be issued prior to the show on the date of the event only. VIP Package components are to be picked up at the venue on the night of the concert. Please note VIP packages are non-transferable; no refunds or exchanges; all sales are final. The information provided at the time of purchase (e-mail and mailing address) is the same information that will be utilized for shipping and individual contact requirements where applicable. 23/7 Global, the artist, tour, promoter, ticketing company, venue or any other affiliated parties are not responsible for outdated or inaccurate information provided by the consumer at the time of purchase. If you have any questions regarding your VIP package elements or have not received your package information within 3 days prior of the performance date, please email [email protected].