Video Games Live
with UTPB University Philharmonic & UTPB University Choir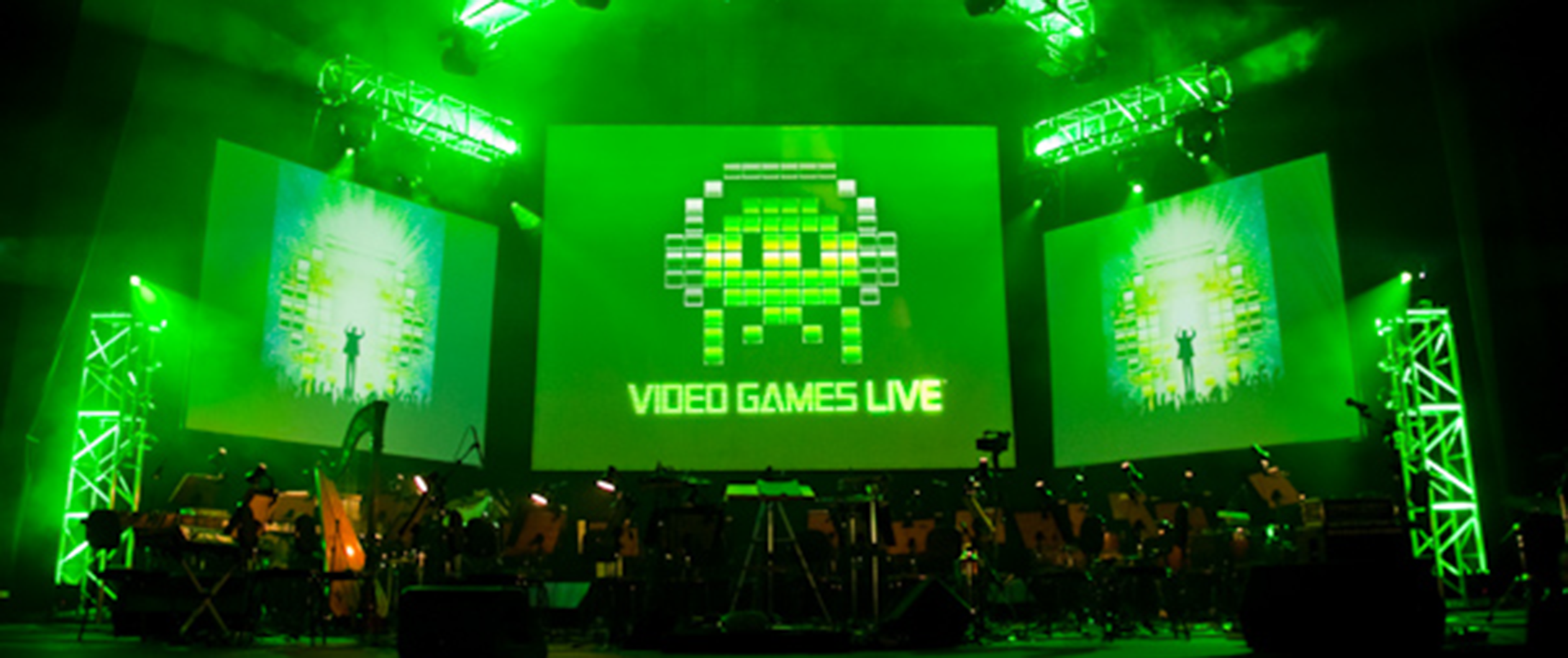 Video Games Live
with UTPB University Philharmonic & UTPB University Choir
VIDEO GAMES LIVE, a complete celebration and multimedia concert experience featuring music from the most popular video games of all time, is making its way to Midland at the Wagner Noël Performing Arts Center on Saturday, November 10, 2018. The performance will be accompanied by UTPB University Philharmonic & UTPB University Choir.
Video Games Live is an immersive concert event featuring music from the greatest video games of all time. Created and produced by industry veteran video game composer Tommy Tallarico; top orchestras and choirs around the world perform along with exclusive video footage and music arrangements, synchronized lighting, special fx, solo performers, electronic percussion, live action and unique interactive segments to create an explosive one-of-a-kind entertainment experience.

PRE-CONCERT ACTIVITIES
- Costume contest with the winner selected from the stage just prior to the concert.

POST-CONCERT ACTIVITIES
- Meet and greet reception with game industry luminaries (open to all ticket holders)
The live show features audience participation with special interactive segments where people from the audience come up and compete while the orchestra plays the music in perfect synchronization with the visuals on screen. Franchises currently represented include Mario™, Zelda®, Halo®, Final Fantasy®, Warcraft®, Sonic™, Metal Gear Solid®, Kingdom Hearts, Chrono Trigger™, Chrono Cross™, Myst®, Tron, Castlevania®, Medal of Honor™, God of War™, BioShock™, Civilization IV, Tomb Raider®, Harry Potter™, Beyond Good & Evil™, Advent Rising, EverQuest® II, Monkey Island, Earthworm Jim, Pac-Man, Conan, Headhunter, Splinter Cell®, Ghost Recon™, Rainbow Six®, Jade Empire, Metroid, Contra, Guitar Hero™ and a special Classic Arcade Medley featuring over 20+ games from Pong® to Donkey Kong® including such classics as Dragon's Lair, Tetris, Frogger, Ghosts 'n Goblins, Gauntlet, Space Invaders, Outrun and MANY MORE!
Related Links

VGL VIP Experience

VIDEO GAMES LIVE EXCLUSIVE ULTIMATE GAMER VIP EXPERIENCE! (LIMITED)

Are you the ultimate gamer and want special access to the most popular video game concert in the world? How about a tour of what goes on behind the scenes by VGL Creator/Executive Producer/Host and video game legend Tommy Tallarico? Are you interested in NO WAITING special front of line access to the post-show meet & greet with the performers and special guests? How about a laminated backstage pass and V.I.P. package of exclusive merchandise? Then here's your chance! The Video Games Live Ultimate Gamer V.I.P. Experience includes the following...

Video Games Live V.I.P. laminated tour pass.
Pre-show production tour, Q&A, and special personal meet & greet with VGL creator and game music superstar Tommy Tallarico.
Free download card for the top-selling Video Games Live Level 3 album.
Video Games Live Inventory Pack which includes vinyl sticker, magnet, Tommy VGL guitar pick, 1st show Hollywood Bowl Commemorative Ticket, rubber wristband, pin, metallic balloon.
Special FRONT OF LINE access to the Video Games Live post-show meet & greet.
Signed 1st-page conductor sheet music from the performance.

IMPORTANT INFO! PLEASE READ BEFORE PURCHASING

The Ultimate Gamer V.I.P. Experience Package DOES NOT include a ticket to the show. You MUST have a ticket to the show to attend the V.I.P. Experience. You may purchase any seat separately from the V.I.P. Package. On the week of the performance, you'll receive an e-mail with instructions on what time to be at the venue, where to go to receive your package and start your experience! If you do not receive an e-mail within 24 hours of the performance PLEASE CONTACT US IMMEDIATELY at [email protected] If for any reason a performance is canceled the full amount of the V.I.P. package will be REFUNDED. If you have any questions regarding the V.I.P. Experience Package please contact [email protected]